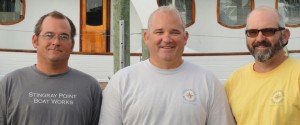 Stingray Point Boat Works (SPBW) is conveniently located at the mouth of Broad Creek with easy access to the Rappahannock River and the Chesapeake Bay. We offer a comprehensive range of marine services with a friendly, family touch.
Operated by the Farinholt brothers Lee, Rick, and Jon, SPBW focuses on friendly, helpful service. Whether we're sharing details on the most intricate repairs or offering advice on the best local information, we are here to serve our customers in any way we can.
As lifelong boaters, the Farinholt brothers offer customers first hand information on all aspects of boating along with exceptional service. Our experienced team of professionals has the technical knowledge and skill to perform the top quality repair you expect and to continually meet the needs of boating customers.
Stingray Point Boat Works offers our loyal customers and fellow boaters customized services. In addition to convenient location on the Rappahannock River, our fully mobile division, Urbanna Boat Works, offers on-the-spot quality boat repair, preventative maintenance and engine services, and yacht management packages at your location. At Stingray Point Boat Works, customer satisfaction is our number one priority.
Our innovative approach to providing comprehensive services makes us the superior choice when looking for a dependable and convenient full-service boatyard or repair service.
In the spirit of boating and in support of our local and international community, SPBW, and our employees, make positive contributions to many foundations and non-profit organizations. We are committed to giving back by volunteering or by donation to the following:
Virginia Maritime Heritage Foundation
Jamestown Yorktown Foundation
Deltaville Maritime Museum
Ocean Conservancy
Chesapeake Bay Foundation
US Coast Guard Auxiliary
Hayes Hitzeman Foundation