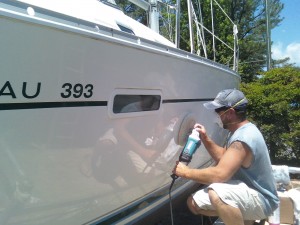 SPBW's annual services keep your boat looking great and operating at peak performance. Whether yours is a racing sailboat or a cruising trawler, regular safety inspections can identify potential problems. When reliability and optimum performance out on the water are your main concern, you can depend on us to prepare your boat for a safe season.
View or Download Our Fall Decommissioning Checklist Here
View or download our Yard and Storage Rules here (pdf).
Our annual services and maintenance packages include:
Hull maintenance: Annual services include bottom paint, stripping, sandblasting, blister repair, waxing and polishing, complete detailing, thru hull inspection, hoses, bonding systems, and corrosion check.
Engine maintenance: Annual preventative and maintenance services are critical to prolonging the life of your inboard or outboard, gas, or diesel engine. Our comprehensive engine services keep your boat running like new with optimum efficiency and performance.
Winterization: SPBW takes care of the details and prepares your boat and its systems for winter. Our checklist includes everything from anti-freeze and engine prep, to batteries, bilges and seacocks. See SPBW's winterization checklist.
Spring commissioning: Whether you have a sail, power, or work boat, our pre-launch inspection is an easy way to prepare you for a safe season. Spring commissioning includes a comprehensive assessment of everything from the cutlass bearing and stuffing box to batteries and systems of your vessel. See SPBW's spring commissioning checklist.
Quick haul services: For U.S. Coast Guard Inspection, surveys, zinc replacement, bottom inspection, fouled prop, prop inspection, and running gear examination.